The Walking Encyclopaedia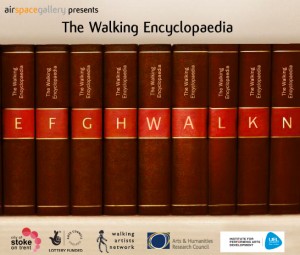 A brief look through Roget's Thesaurus offers us a sense that a walk can be many things. It could be a stroll, a saunter, a hike or a ramble. For those with time to spare it might be a promenade or a perambulation or if the mood has taken a turn for the worse, the walk could turn into a traipse or a trudge. The political walker might consider a march or a parade, whilst the pilgrimage or the crusade would be more pertinent for the spiritual.
Walking as a cultural activity stretches from the 18th century philosophy of Rousseau, who famously "thought with his legs", encompassing the Parisian flaneurs and the psychogeography which sprang from the Situationists and which still endures today. The conceptual walking of Richard Long and Hamish Fulton brought the artistry of the act into the Gallery and the consciousness of the art theorists to the point that today; the act of walking and the walking artist are at the forefront of contemporary art.
A Walking Encyclopaedia is an attempt to collate and present as many different artistic responses to, and uses of the walk as possible. Timed to coincide with the Richard Long Exhibition at the Potteries Museum and Art Gallery (part of the Tate's Artist Rooms On Tour programme), The Walking Artists Network in partnership with AirSpace Gallery is inviting submissions from walking artists and artists who walk to send in documentation of their practice, historic or current, in all forms of media, in order that we can offer a significant overview of the contemporary state of the genre.
Our exhibition will then, become a physical repository for Walking Practices, and we envisage any of the following being submitted:
Video documentation of walks, and films about walks
Sound documentation of walks
Photographs and photographic documentation of walks
Artworks made on walks, about walks and as walks
Publications and zines about walks and walking practices (we will have a reading corner within the gallery).Over the month-long course of A Walking Encyclopaedia, and in conjunction with a major exhibition of works by artist Tim Knowles, AirSpace Gallery will be highlighting daily, through its gallery spaces, website and social media outlets, different walking practices and walking artists, submitted via this call. There will also be a Walk planned, and an Artist Soup Kitchen event, themed around walking practices.

Please contact:
AirSpace Gallery, 4 Broad Street, Stoke-on-Trent, ST1 4HL mail@airspacegallery.org with details of what you would like to submit for A Walking Encyclopaedia, by Friday, 13th December 2013.

Exhibition runs from 7/2/14 to 8/3/14